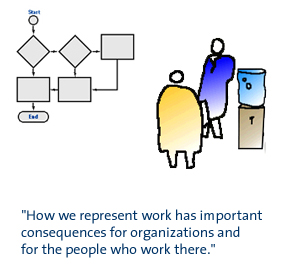 making work visible: product design plan

How people work is not always evident. In the translation from planned process to daily doing, informal work practices develop. Unofficial, these practices and the knowledge they generate are not found in databases, process flow diagrams, or spreadsheets. They emerge as processes are interpreted in an actual work situation.

This project explored new ways for organizations to represent and share the collective knowledge generated in the workplace. The goal was to conceive of a human-centered software application and a business strategy that would support both a successful launch and economic viability over time.

The resulting design brief describes Scenario, a conceptual prototype for software designed to help companies capture, visualize and share workplace knowledge. The plan is written from the perspective of a hypothetical high-tech start-up company called Workware.